Are you starting a restaurant, coffee shop, or food truck concept?
One of the most important decisions you need to make is what type of POS system you are going to use. This is the brain of your small business.
In this Square for Restaurants review, I'll look at its features, user experience, use cases, and more so you can decide if it's the right POS system for your restaurant concept.
What is Square for Restaurants?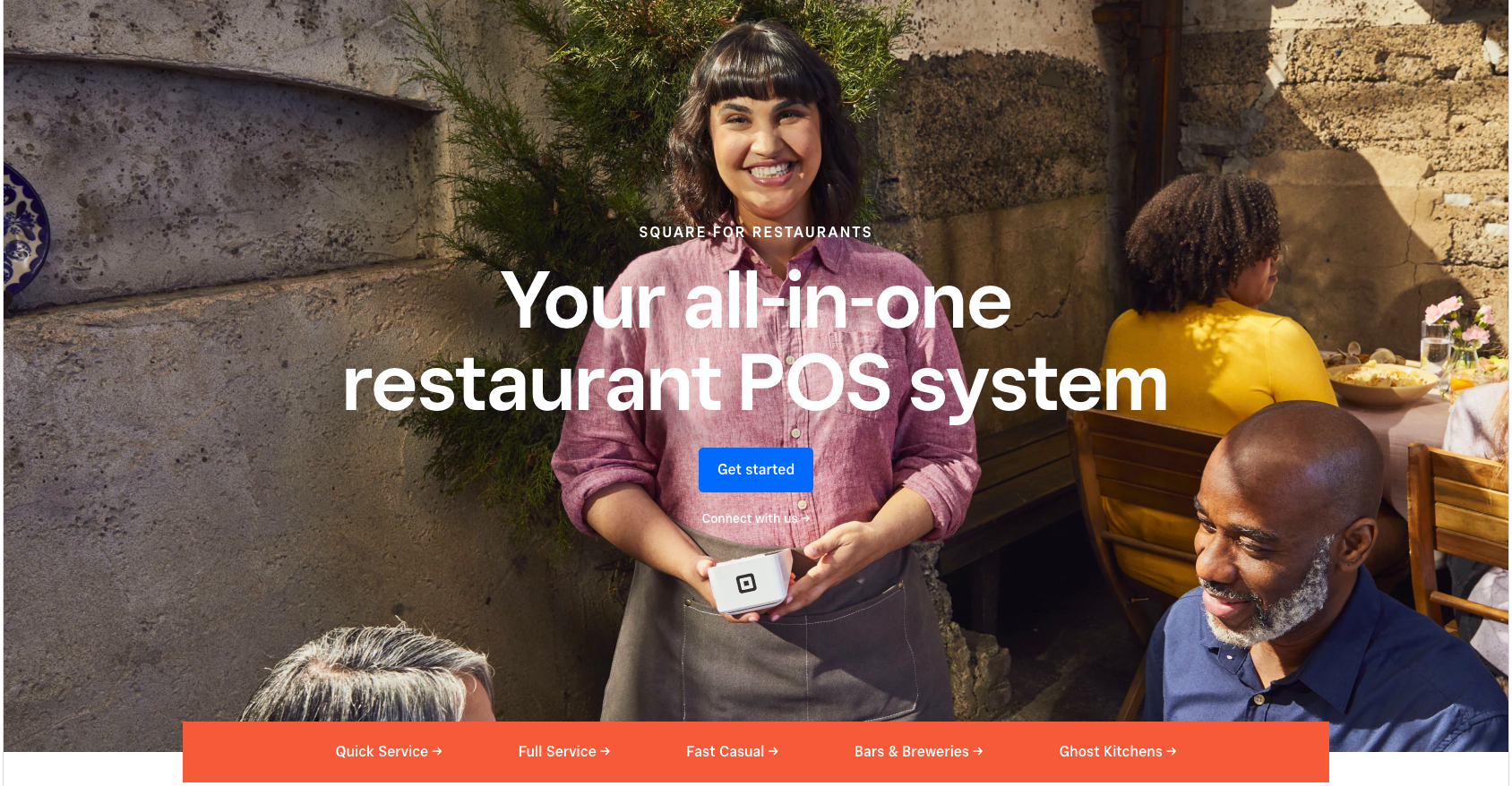 Square for Restaurants POS System is a cloud-based system that allows restaurants to quickly and securely process customer transactions.
This can include accepting various forms of payment, such as credit and debit cards, and tracking and managing sales and customer information.
Square POS is a popular choice for small and medium-sized restaurants, as it is easy to set up and use, and is often more affordable than other POS systems.
Getting started with Square POS
It is a very intuitive and easy interface that lives on the cloud. It starts with a free plan so you just need to register and you can
Features
Square Kitchen Display System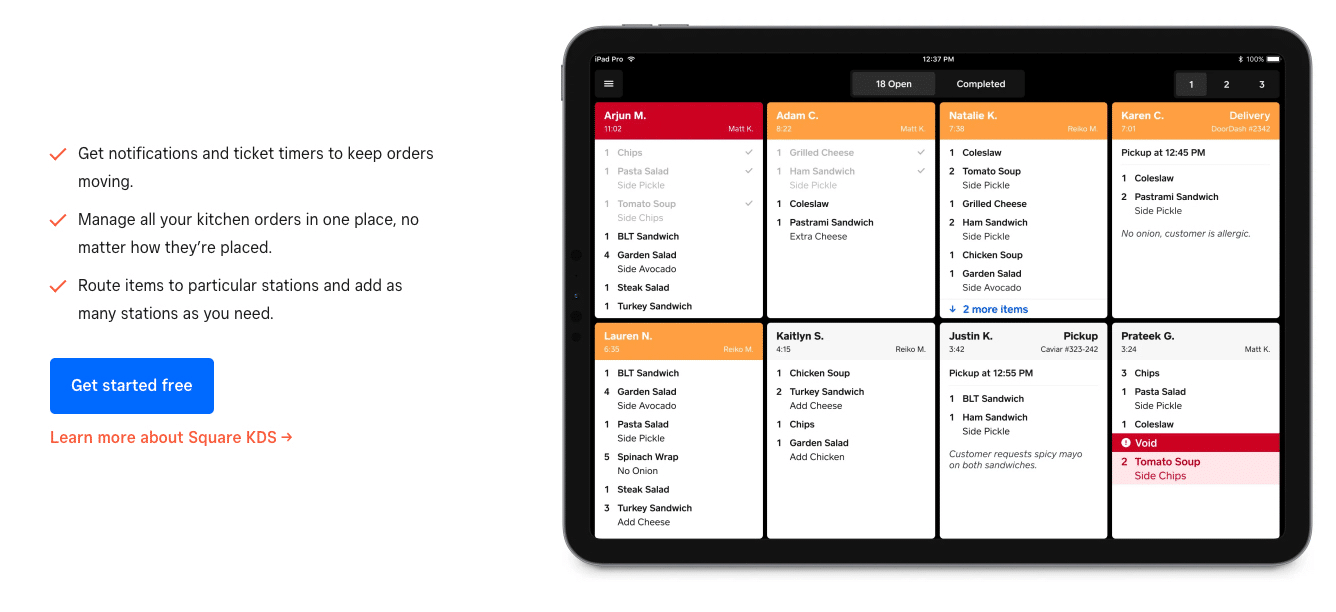 A kitchen display system, or KDS, is a computer system that is used in restaurant kitchens to display and manage orders from the dining area.
The KDS typically includes a display screen that shows the details of each order, such as the items that have been ordered and any special instructions for preparing the food.
This information is typically sent from the restaurant's main POS system to the KDS, allowing kitchen staff to quickly and easily see what needs to be prepared and when.
Kitchen display systems are designed to help restaurants improve the efficiency and accuracy of their kitchen operations, and can help to reduce the time it takes to prepare and serve food.
Square has its own Kitchen Display System or you can use a third-party app that integrates with Square. I personally prefer to use the native one as it works seamlessly with Square.
Flexible Payments
Accept all major credit cards, Apple Pay, Google Pay, or Tap to Pay.

Set up automatic tipping, move or assign checks to the staff, and manage voids with ease.

Offline Mode enables you to process payments without having internet. Once the internet is back the system will sync and process all orders as a batch.

PCI Compliance and chargeback management on your behalf.
Fast Order Entry
Create and customize your menus from your office, remotely, or directly from the Square POS Device.

Get every order right from your customers with an intuitive menu and easy to onboard.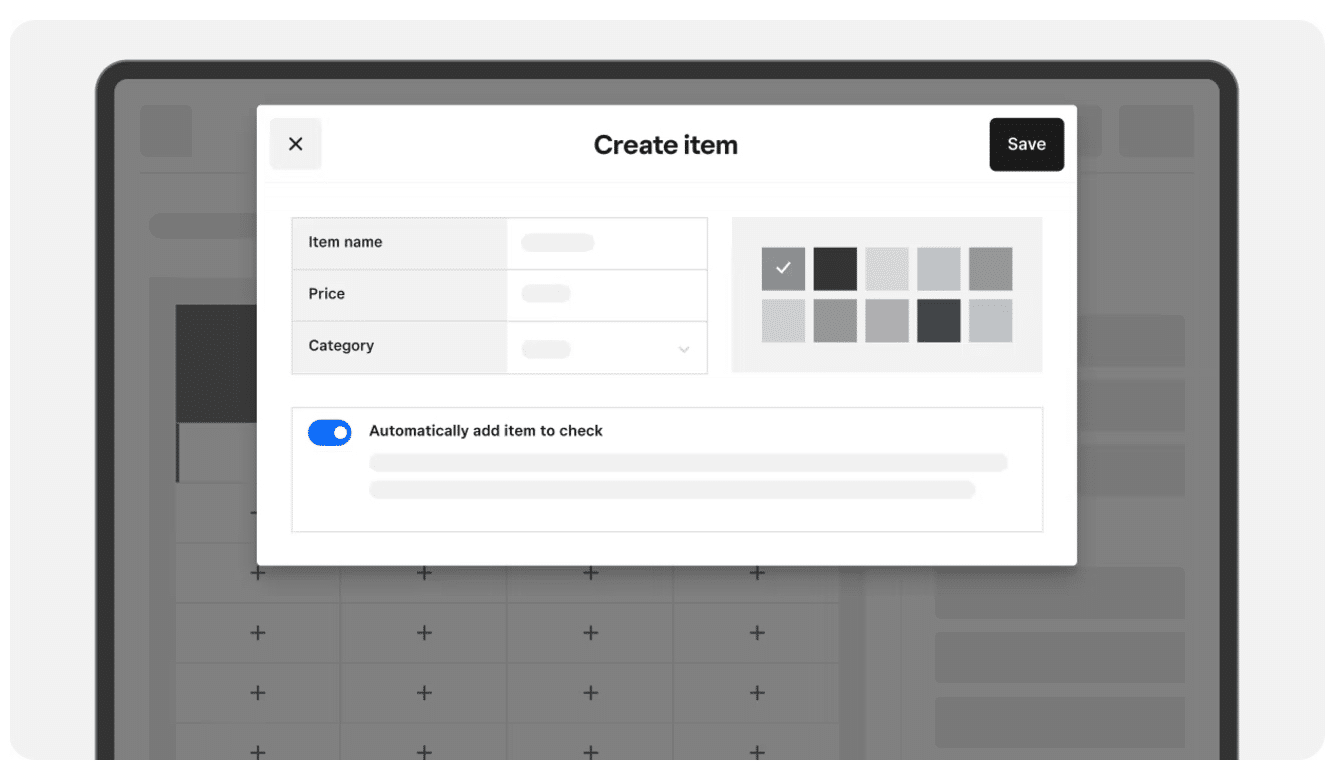 Floor Management
If you own a restaurant with seating you can draw that seating chart on Square POS Software and assign table numbers.
Customize your restaurant floor plan with intuitive click-and-drag layouts.

Keep tables turning by monitoring real-time status. This helps have a KPI for efficiency on the floor.

Closing procedures run smoothly when you tip out staff, close out the cash drawer, manage closed checks, manage comps and voids, and run close-of-day reports all from the POS. [Square for Restaurants Plus]

Stay on pace by grouping or adding items and letting the kitchen know when to hold or start firing dishes. [Square for Restaurants Plus]
Pricing
Square for Restaurants has 2 different plans:
Free: $0/month for unlimited devices and locations.

Plus: $60/month and includes Team Management and Kitchen Display System.
Both of these plans have a processing fee of 2.6% +10 cents per in-person credit card transaction.
Is Square Retail and Square for Restaurants different?
Yes! Square for Restaurants was made to meet the demands of a restaurant owner. It is the same data just a different front-end look and some tweaks in its capabilities such as seat management, menu management, integration with UberEats, and out-of-stock items (86)
If you own a coffee shop, restaurant, quick service, or food truck, I suggest you transition from Square for Retail to Square for Restaurants as it is free and offers better features.
Using Square Register for more Multiple Locations
Square Point of Sale works with one or many locations. One of the advantages of using Square for more than one location is that you manage all from the same back-end and it allows you to see different KPIs by individual locations or in aggregate.
If you are using Square Loyalty, your customers can register in one location and still be able to identify in a different location and you still see all their interactions with the different stores and products.
When you are creating a new menu, with one click you can publish it in all stores. This is a time-saving feature that makes running multiple store menus an easy task.
Square for Restaurants Integrations
Square App Marketplace integrates with multiple apps natively. This feature allows you to use apps like Marketman, Homebase, Opentable, or Quickbooks and integrate them directly with Square for a seamless experience.
Navigate through different categories such as Marketing & Analytics, Loyalty & Rewards, or Delivery & Orders. Depending on what you need there is an app that integrates with the POS.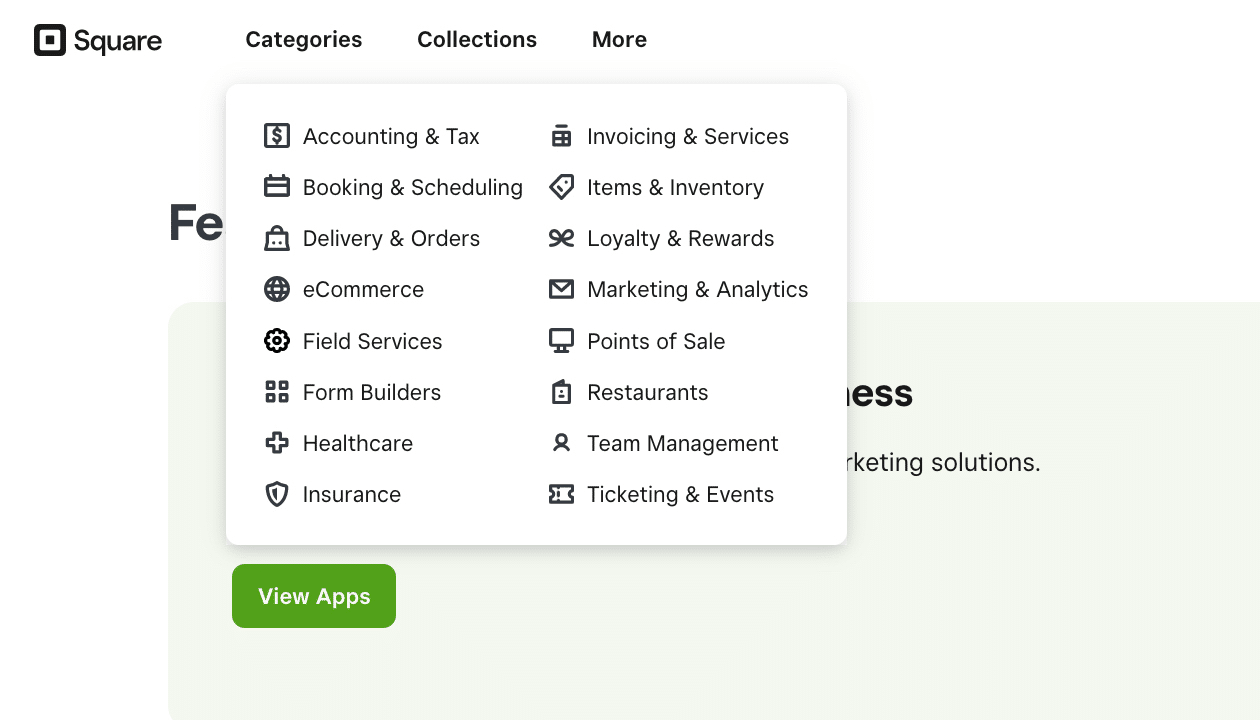 Square Backend and Dashboard App
Square has an intuitive backend where you can manage your entire business. Here is a screenshot of the backend menu.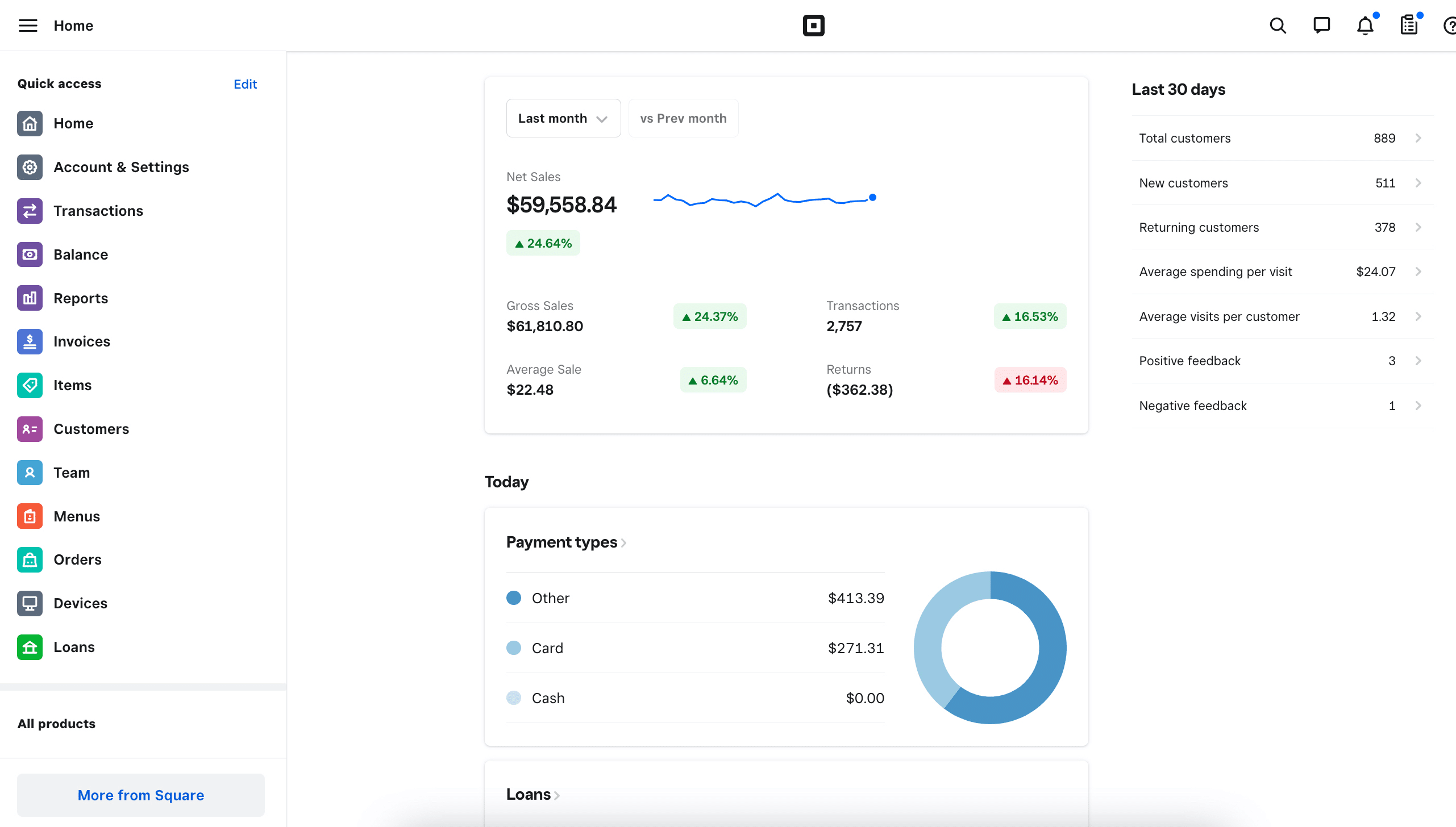 Square Dashboard App
If you like your business information at your fingertips, you can download the Square Dashboard app from the App Store (iOS) and get the same information you see on the dashboards. It also allows the addition of smart widgets.
How do I switch to Square for Restaurants?
Transitioning from Square for Retail to Restaurants is easy. You will keep all your analytics and data. Simply download the Square for Restaurants app from the app store and set up the menu from the back end. You can start processing orders right away.
Square for Restaurants Reviews: Should I buy it?
If you are starting a food concept or have an established one, I would try Square for Restaurants' free version as my payment processing system.
It is an easy way to get started and focus on your product-market fit instead of the technology. This is the most important part of starting a food business.
I would add Loyalty and Marketing modules from Day 1, to make sure you know your customer data and are able to connect with them and offer promotions and incentives to get them back to your business.
Get started with Square today.